北京非典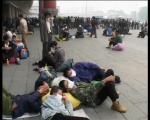 >
投票或上传图片(4)
>
浏览/分享相关视频(0)
评分:

(不足5人暂不计算)


(共 0 人评价)
| | |
| --- | --- |
| 片名: | 北京非典 |
| 其它片名: | 北京非典/SARS IN BEIJING |
| 导演: | 汪士卿 |
| 制片人: | 汪士卿 |
| 摄影: | 汪士卿 |
| 片长: | 14分钟 |
| 年份: | 2003年 |
| 类型: | |
| 国别: | |
| 语言: | |
| 格式: | PAL, Color, DVCAM |
影片概述 . . . . . .
   Between April and June 2003, brutal epidemic of SARS had a deep impact on Chinese people's life, especially in Beijing. Flocks of migrant laborers who had come to the capital to find work started straggled back to their hometown in the countryside to escape the illness. I spent a day within the crowd constantly packing Beijing West Railway station at this time, trying to a trace of an event that made many feel emotionally disquiet, while forcing them to meditate on their life and whereabouts.

导演阐述 . . . . . .
   Wang Shi Qing is a cinematographer and independent filmmaker based in Beijing. A graduate of the Beijing Film Academy, he has been the director of photography on over 120 productions ranging from TV dramas and music videos to commercials and documentaries. Wang acted as Director of Photography for the multiple award-winning documentary Up The Yangtze(www.uptheyangtze.com), which screened to warm receptions in theatres across Canada and the USA between February and October 2008. The film was listed as part of Canada's TIFF Top Ten 2007, and was described by the Globe and Mail's Liam Lacey as "Outstanding… gorgeously shot and as gripping as an epic novel."
   Wang was awarded the prize for Best Cinematography for a Documentary Feature for Up the Yangtze at the 2008 RiverRun International Film Festival in North Carolina, April 2008.
Wang also is the nominees for Cinema Eye Honors and 30th Annual News & Documentary EMMY in the category of OUTSTANDING ACHIEVEMENT IN CINEMATOGRAPHY.

  Wang shi qing j received the certification in recognition of successful completion of Asian Film Academy 2008 programes(afa.piff.org/eng/index.asp),during three weeks in Pushan,he shooting a short film with Japanese director and other aisan young fellows.

获得奖项 . . . . . .
评论列表(0) . . . . . . ( 发表新评论 ) ( 更多评论 )
幕后花絮 . . . . . . (上传花絮) (展开所有)
影片图集 . . . . . . (更多/我要上传)
相关视频 . . . . . . (更多/我要分享)
对本影片资料作出贡献的会员 . . . . . .